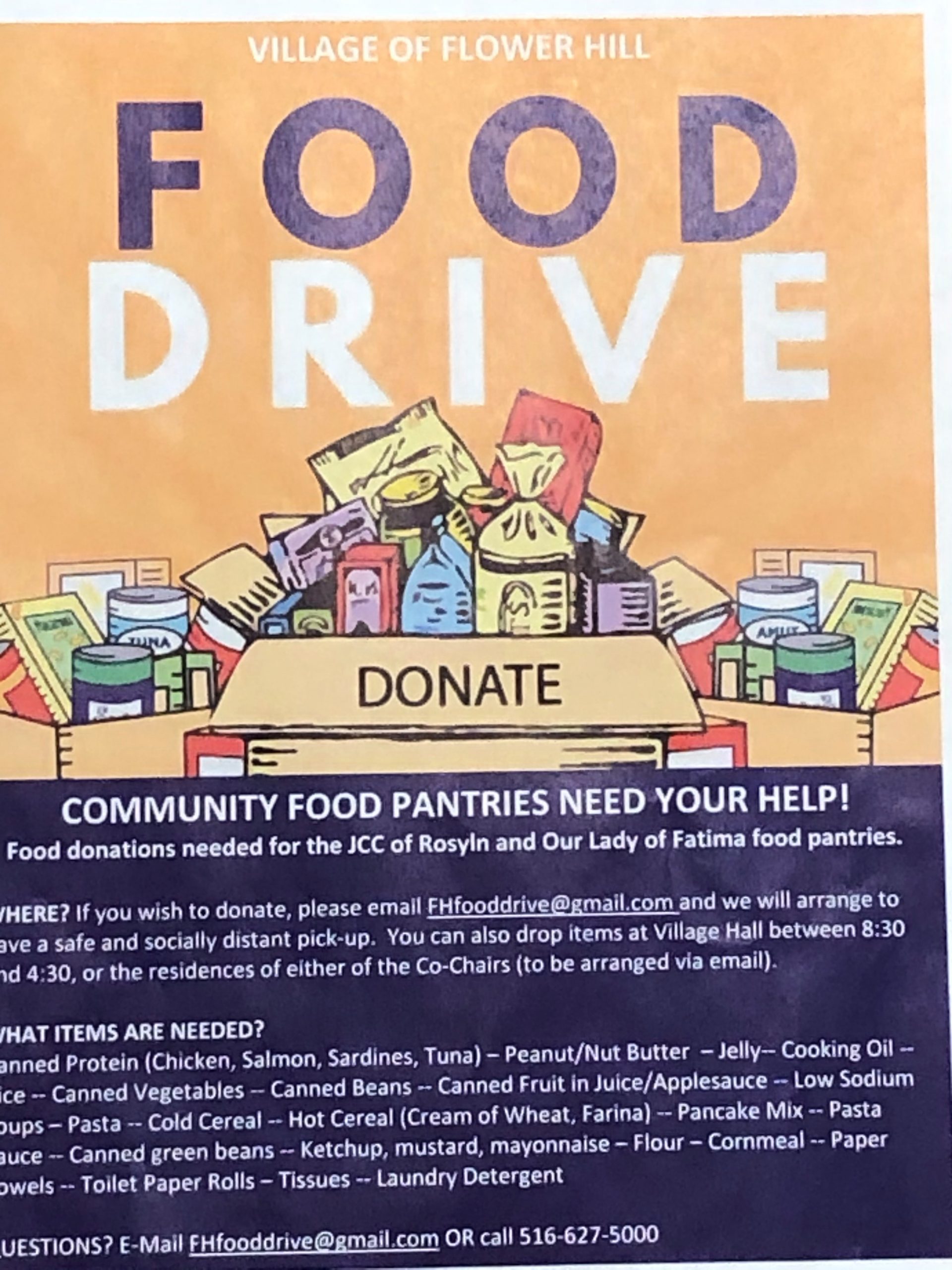 Dear Residents of Flower Hill,
2020 has certainly been an unprecedented year.  While many of our village residents have been affected, thankfully the majority have been able to keep the lights on and keep food on their tables.  For others, that is not always the case – which is why we have established the Flower Hill Food Drive.
With a helping hand from local groups and other community volunteers, the Flower Hill Food drive will support families in our area who are in need.  All contributions will be donated to local food pantries (currently JCC of Roslyn and Our Lady of Fatima in Manorhaven).
How can you help? We have set up two drop-off locations and we are asking you, the generous residents of Flower Hill, for your help.  If you wish to donate, please email FHfooddrive@gmail.com and we will arrange a safe and socially distant pick-up.  In addition, you can drop items off at Village Hall between 8:30 am and 4:30 pm) or at the residences of either of the Co-Chairs (to be arranged via email):
Claire Dorfman:
129 Chestnut Road, Manhasset
Milan Doshi:
51 Reni Road, Manhasset
ITEMS NEEDED:
NON-PERISHABLE SHELF STABLE FOOD
Canned Protein (Chicken, Salmon, Sardines, Tuna)
Peanut Butter or Alternative Nut Butter
Jelly
Cooking Oil
Rice
Canned Vegetables
Canned Beans
Canned Fruit in Juice/Applesauce
Low Sodium Soups
Pasta
Cold Cereal
Hot Cereal (Cream of Wheat, Farina)
Pancake Mix
Pasta Sauce
Canned green beans
Ketchup, mustard, mayonnaise
Flour
Cornmeal
PAPER GOODS, HOUSEHOLD ITEMS, CLEANING SUPPLIES
Paper Towels
Toilet Paper Rolls
Tissues
Laundry Detergent
The donations will be collected and distributed evenly to neighboring food pantries multiple times a week.
If you have any questions regarding this initiative or which to be involved, please send an email to FHfooddrive@gmail.com (preferred) or you can also call the Village of Flower Hill at 516-627-5000.
Thank you for your attention and help,
Sincerely,
Brian Herrington, Mayor
Gary Lewandowski, Flower Hill Trustee
Claire Dorfman, Co-Chair and Flower Hill Trustee
Milan Doshi, Co-ChairFood Drive
Filed under: Featured Story
Comments: Comments Off on Flower Hill Food Drive
---